Brook has been at the forefront of providing sexual health and wellbeing support for young people for over 50 years.
Onclick are proud to be working in partnership with Brook in developing and managing Brook Learn; an online portal offering a range of free and high quality online learning products to support professionals delivering sex and relationships education (SRE).
As part of Brook's ever-expanding suite of digital learning courses on sex and relationships, we are pleased to have recently launched a new "Contraception" module. Probably one of the most popular SRE topics – We know that talking about contraception with young people is not always easy. But it's so important to discuss the different methods available to protect from us from pregnancy and sexually transmitted diseases (STIs).
Learning about contraception leaves young people better equipped to have healthier, safer sexual lives. It also supports them to understand their range of choices and to make informed choices when the time comes.
The aim of this elearning resource is to arm professionals working with young people with the knowledge and resources, whilst giving them the confidence to deliver an effective and fun SRE session on contraception.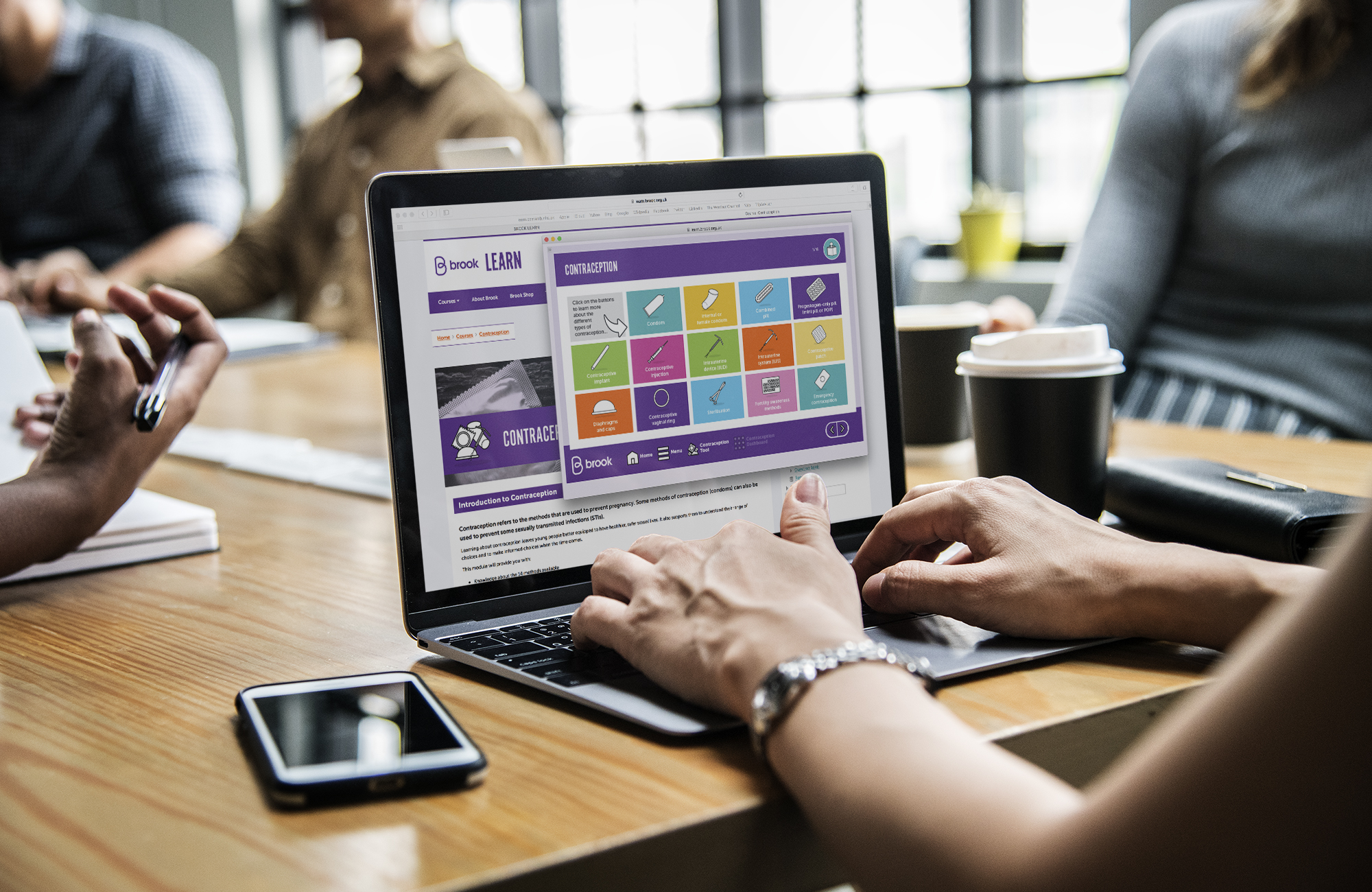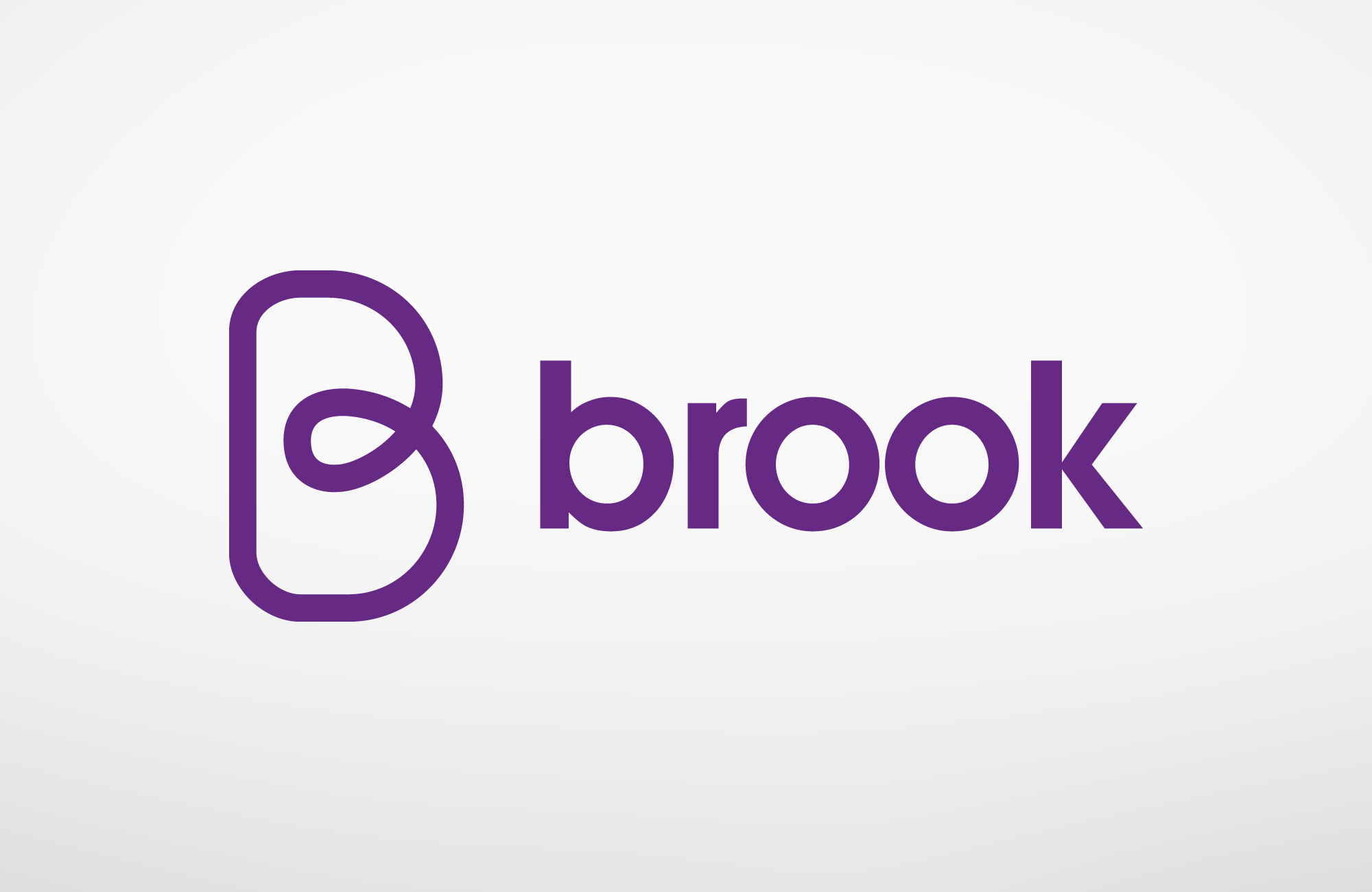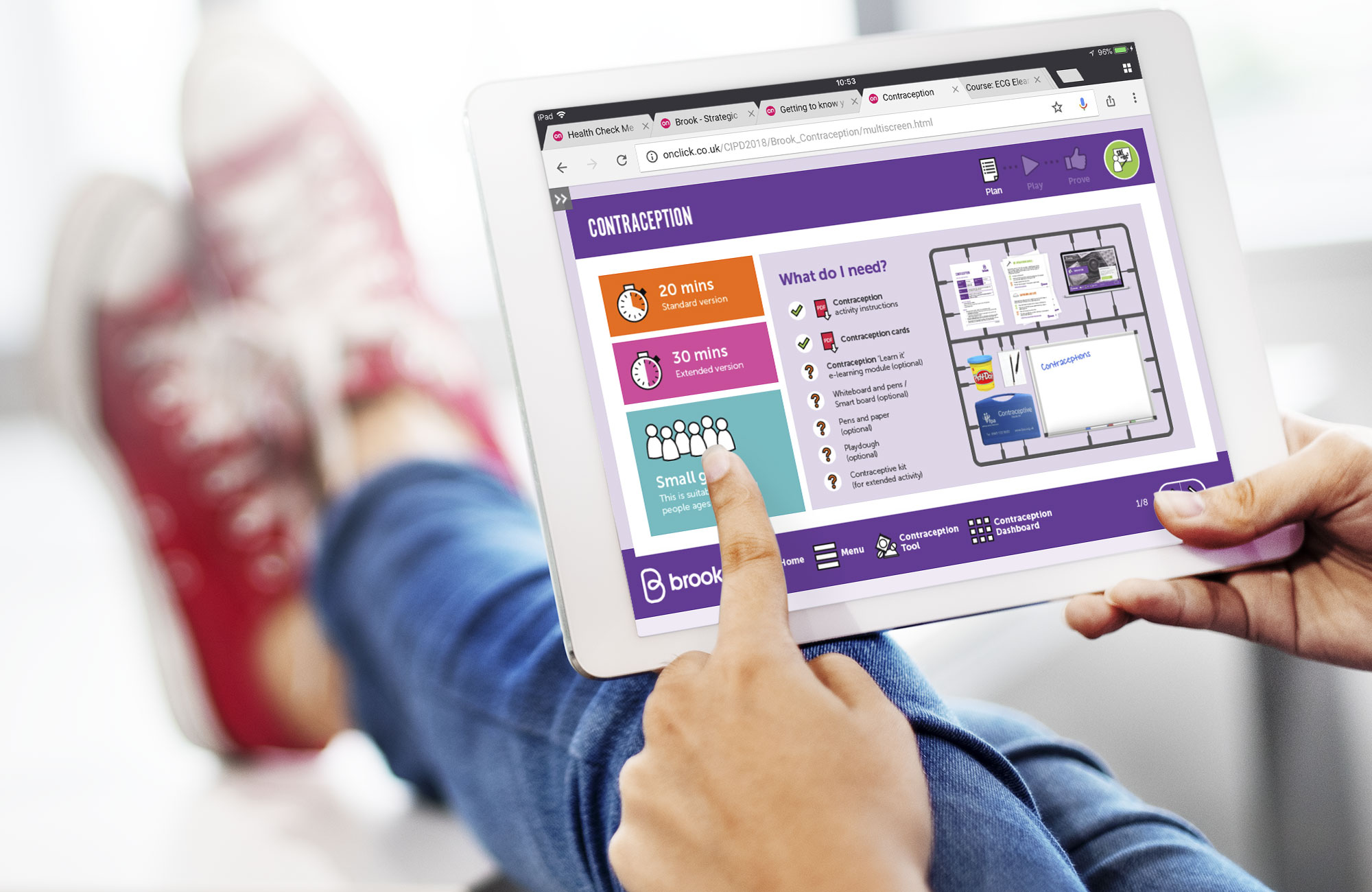 As each of the 14 methods of contraception have their own separate learning points, we decided to take a non-linear approach to the build of this module. All learning content therefore was designed to be accessible from one main contraception dashboard.
This meant that users can dip-in-and-out of different methods, whether to refresh their knowledge on a particular contraception type, or to actively design their learning pathway in partnership with their young audience.
Each contraception type comprised it's own interactive table, featuring a method outline, pros and cons (illustrated by custom-made icons) and a video animation, demonstrating how the method actually works.
These animations formed the crux of our course content and were designed and developed for multi-use at Brook. End users could therefore use the videos as stand-alone learning resources (available on YouTube and via the Brook website), or view them as an animated summary within the elearning module itself. We developed a bespoke animation design and style using the new Brook brand guidelines. For an authentic and friendly atmosphere, each voiceover was recorded by one of Brook's very own young volunteers.
As part of the elearning navigation bar, we also created an additional, interactive "Contraception Tool". This works as a quick recap to the benefits of different contraception methods and can be accessed within the elearning or directly online.
The "Learn It" section acts as an interactive knowledge-base for the user, allowing you to explore and understand the methods for yourself. Whilst, the "Teach It" section equips them with everything they need to conduct the classroom session itself. Here the user can work through a step-by-step guide for teaching young people about contraception in the classroom (ages 13-17). This section includes useful downloadable resources (such as contraception cards) and helpful discussion points.
To view all of our Brook Contraception animations, visit our YouTube Playlist.
To date almost
200 certificates

have been issued to professionals taking this course.
Our condom animation in particular has already achieved over 112,000 views on Youtube!
90% of users rated the elearning as "good" or "excellent", with 100% of users strongly agreeing they would be able to apply the knowledge they learnt.
84-92% of users stated that they felt more confident, skilled and knowledgeable in teaching contraception methods to young people.
An impressive 80% of users said they planned to use and deliver education to young people as a result of taking this course.
After a fantastic reaction to this initial launch, we are now developing the contraception course further to incorporate modules on both the IUD and IUS and emergency contraception.




A good understanding of the range of contraceptive methods presented in a really simple and easy to understand way.
A helpful activity to make learning about contraception more interactive and fun for young people.
A great recap on the various methods of contraception.
I feel like I can help a young person make an informed choice now.