Cardiff University came to Onclick for support with the development of the interactive and friendly e-learning modules for the self-management of people with low back pain, within the workplace.
These modules would be embedded within the pre-developed online tool, where users would complete a low back pain self-assessment. They would then be signposted to specific modules, relevant to their own work and lifestyle profile.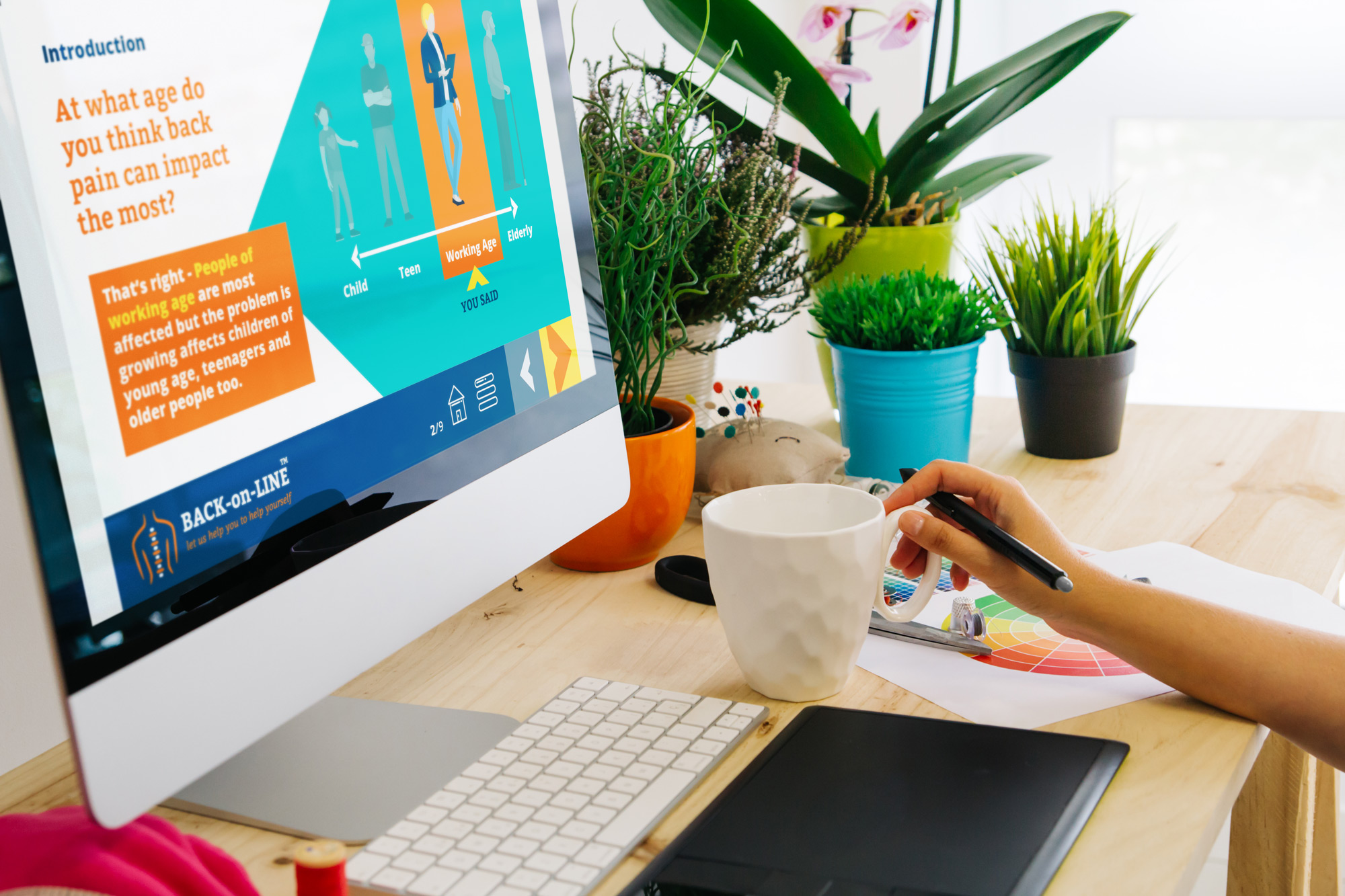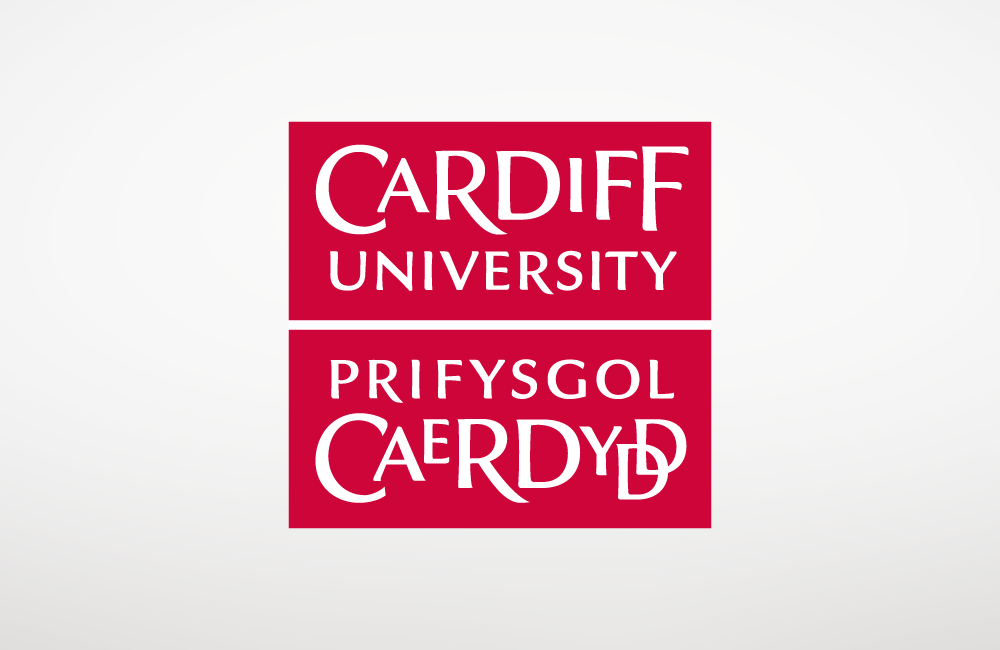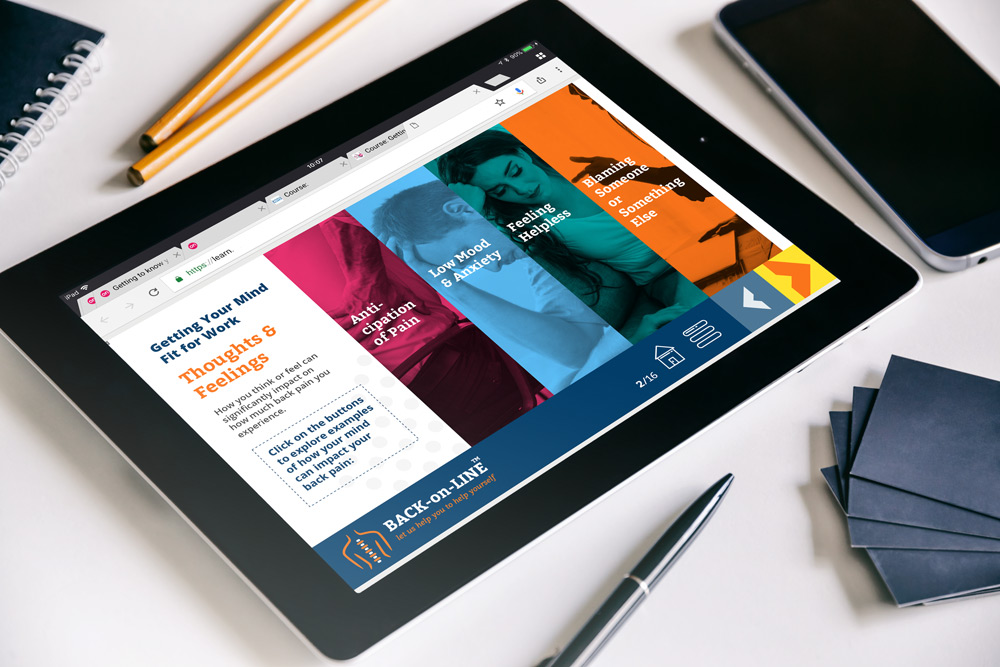 Onclick first supported Cardiff University in developing a brand for their online product, with a new logo and full brand guidelines.
We worked in partnership with Dr Liba Sheeran to analyse the learning content and create 3 distinct, bite-sized modules that worked effectively in an online environment.
Module 1: Introduction to BACKonLINE
An overview of the prevalence, impact and myths around back pain, as well as an interactive guide to the BACKonLINE tool.
Module 2: Getting your spine fit for work
Offering a range of interactive toolkits to suit those in static or manual jobs, as well as pain-relief and strengthening exercises to improve the resilience of the spine.
Module 3: Getting your mind fit for work
Exploring how feeling and emotions can impact back pain and techniques to improve symptoms.
Brief, bite-sized training with interactive activities to engage users was essential in the development of these modules. We integrated graphical mini quizzes, layered interactive content and fun, animated exercise tutorials.
Exercise instruction formed a key element of this training, allowing BACKonLINE users to confidently conduct strength-building and stretch-based routines within the workplace, or in the comfort of their own home.
Rather than using video demonstrations, we opted for the design and development of animated puppets, for clear instruction and to retain consistency across the current tutorial series. This also ensured future proofing of the product, allowing ease of updating or the potential for new routines to be added within the same style and delivery.
As the movement of the spine was a key component to follow within the exercises, we needed a tool that would mimic realistic human movement. We used Duik; a comprehensive animation and rigging toolset for Adobe After Effects, to create our animated character. This provided the main rigging tools, found in any 3D software, controllers, and bones, but then adapts them to 2D animation in Adobe After Effects. By initially building a skeleton, we rigged our puppet to this, so that movement would imitate realistic joints within the animation.
We introduced animated captions to explain key stages of each individual exercise and then produced a full routine version that allowed the user to follow the exercises in real time.
BACKonLINE has now been launched to all staff across NHS Wales and is being tested by numerous organisations for integration within their own staff training.
To date, we have received favourable initial reviews of BACKonLINE by users (people with low back pain) and healthcare providers (HR/Occupational Health Managers).
We are now in the process of exploring additional modules to support the series and the development of customised versions of the course, targeting the specific needs and cultures of organisations.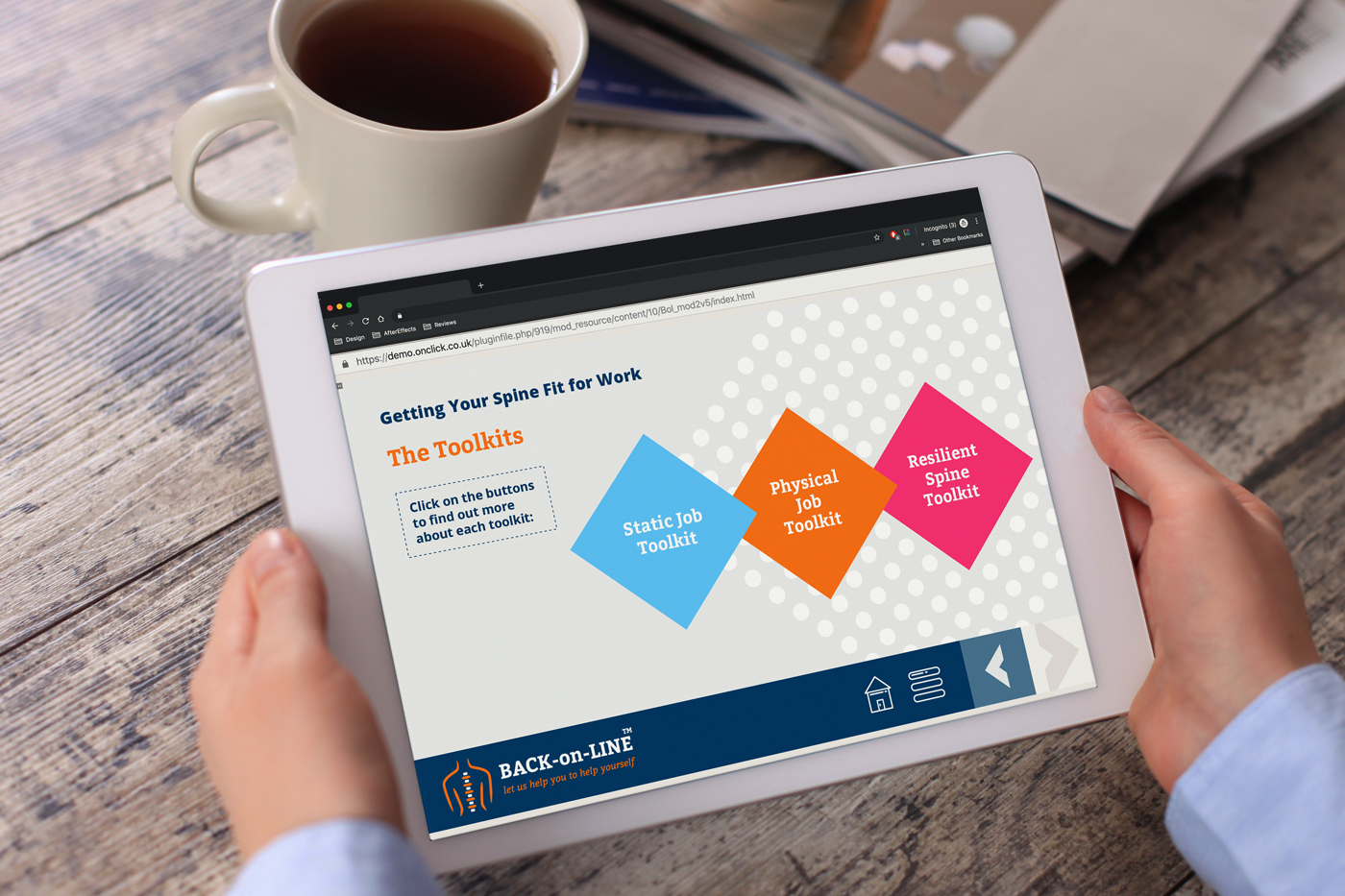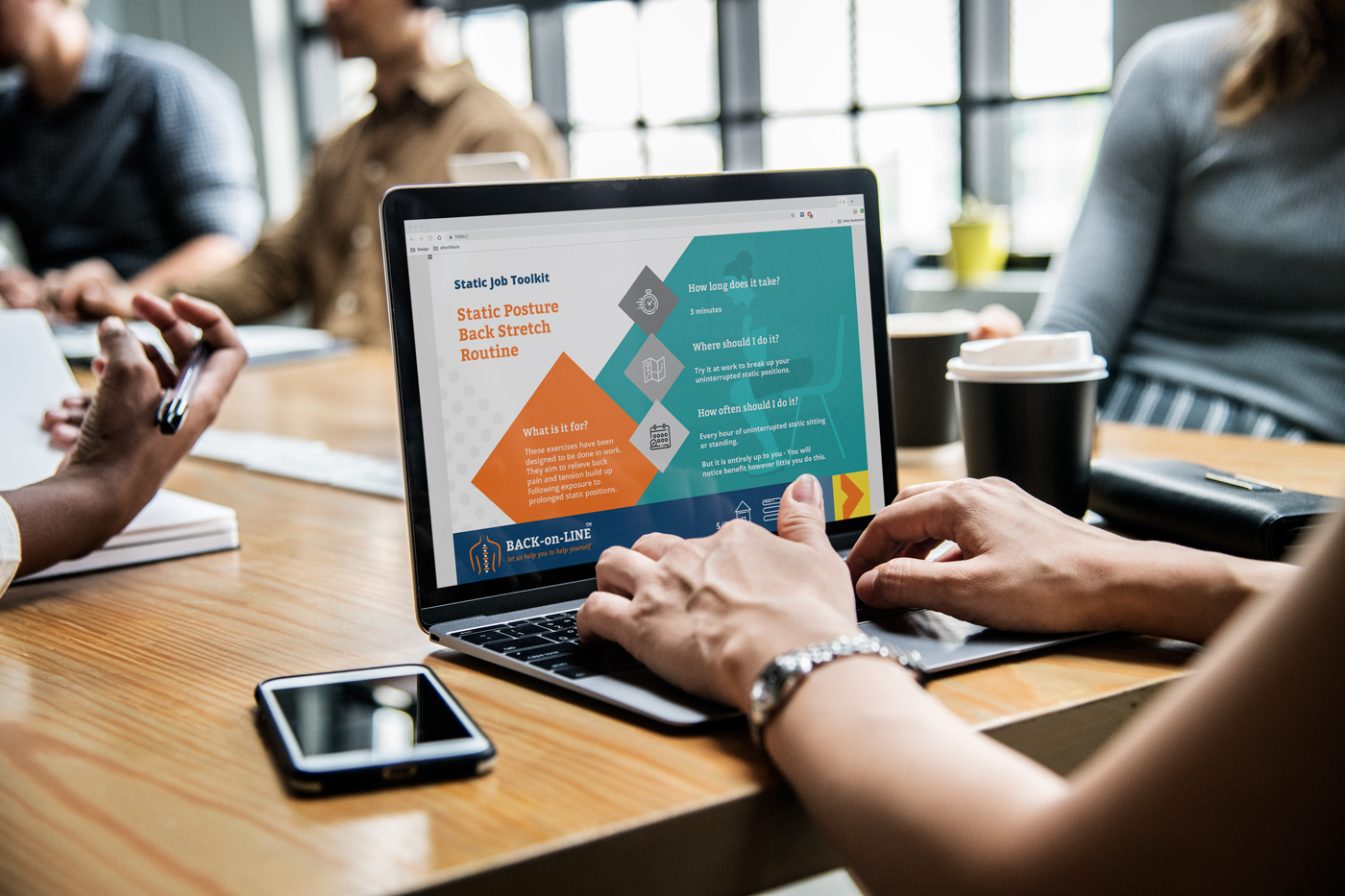 Excellent and easy to understand.
Cwm Taff UHB Occupational Health Manager

An excellent tool for staff to use – Easy to navigate and some very useful messages!
CV UHB Occupational Health Physiotherapy Lead


Bright and easy to navigate – I particularly like the exercise demonstration graphics
ABUHB Occupational Health Manager

Loved the design – the animations and content were engaging and communicated clearly
IBM UKI, employee with lower back pain

The exercises are fantastic; I use them every day when working at the desk. It is also good to know I need to become more active to have a chance of managing my back problem better!
Long term sufferer with lower back pain

What a good idea to have all this info in one place, thank you!
CU employee with lower back pain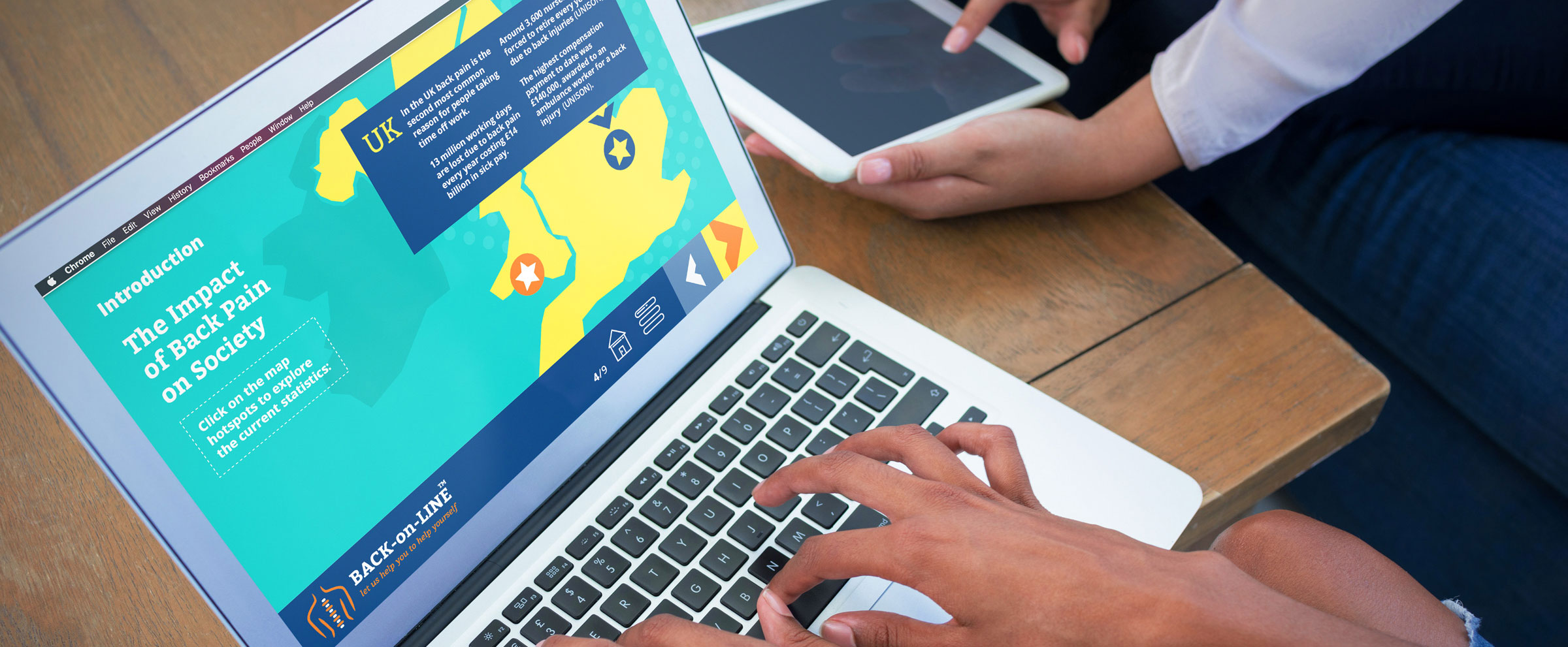 From the outset, Onclick were incredibly easy to engage and work with. Highly professional, organised and a 'can do' approach, meant that we have developed our product within very tight deadline.
Onclick was not only respective to our requirements but also came up with great suggestions and ideas that were integral to the final look and feel of the platform.
Great feedback from our users and work organisations are the testament to that evidenced by BACKonLINE gaining popularity well beyond our expectations.
I would highly recommend Onclick to anyone whose aim is to relay information to users on the go, in an engaging format and capture interest of people within a short time or space window.
Thank you to all working in Onclick! We are very much looking forward to further working with you on future projects.
Dr Liba Sheeran,
Reader, School of healthcare Sciences,
Cardiff University BACK-on-LINE Project Lead