Focus

– Designing content to suit your specific needs with a clear message to learners.
Kings Health Partners
Content

– Featuring real life staff, uniforms and environments.
South East Coast Ambulance Service
Audience

– Getting the delivery and level right for the target learner.
South London and Maudsely Hospital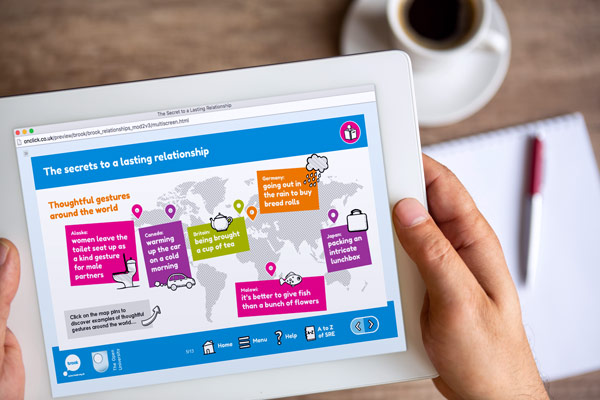 Belonging

– Communicating your brand, values and goals.
Brook
Quality

– Creating a professional and polished end-product.
Sample Taker
Investment

– Reusing assets for multiple purposes across the organisation.
Cheshire East Council
Ooh, suit you sir!
Bespoke elearning is built, specifically for the needs of your organisation and staff. We work in collaboration with you to identify the best approach for your requirements and budget. Some may opt for less-effective off-the-shelf alternatives… but take a look at our key pointers on the benefits of going bespoke!
Focus
Let's be honest – It's rarely possible for one generic course to suit all. Tailor-made developments ensure that only applicable content is included. This means no confusion, disengagement or wasted time for your staff. The message should be plain, simple and focused purely on your unique learning objectives.
Context
It's important to contextualise content by using real environments, familiar faces, relevant scenarios and local branding. Producing bespoke media enables staff to connect with recognisable visuals: whether featuring the local uniform, corporate colour scheme, real work settings or current equipment.
TOP TIP: As a nation of selfie addicts, there's no better way to engage your learners than involving them in the development itself. Feature real staff in your elearning and they'll be desperate to get online to check it out.
Audience
You know your staff best! Getting the right style, tone and delivery is essential to engaging your audience. Off-the-shelf courses will never offer you this flexibility. For elearning to get results, it's important to understand where and how your staff will train, that material is pitched at the right educational level and integrates the appropriate amount of interaction.
Belonging
Bespoke elearning can be useful in communicating your organisation's brand, goals and values, whilst evoking your corporate culture. Such messages can help to unite staff and make them feel a part of a community. This is particularly important when dealing with new starters, but can equally have a positive impact on all staff.
Quality
Recycling media from other suppliers can often mean the quality is inconsistent. Creating bespoke resources for your elearning ensures everything oozes professionalism. The end product will be something to be proud of and show off to your competitors.
Investment
When investing in bespoke media, remember these assets can be reused across your organisation. Try adding video clips to a classroom presentation, developing associated promotional materials, producing printed handbook versions or even updating your staff social media profiles.
Bespoke elearning is a long-term investment. Yes it may be slightly pricier than off-the-shelf alternatives, but remember – you own it! There are no annual fees, but instead, an opportunity to sell your product to others and make a return on your investment!
Our bespoke productions at Onclick are tailored to your unique needs and budget.