CoppaFeel! educates and reminds every young person in the UK that checking their boobs isn't only fun, it could save their life.
Their Boobettes are women who have been diagnosed with breast cancer under the age of 35, have had preventative surgery, a breast cancer scare at a young age or a strong connection to the disease. Using their stories, they regularly visit schools, workplaces and youth groups to educate people about the importance of getting to know your boobs now and making it a lifelong habit.
Proudly supported by Avon UK, CoppaFeel! wanted to ensure all Boobette ambassadors were effectively inducted to this important role, using a consistent and empowering message that equally worked to positively promote and celebrate this wonderful charity.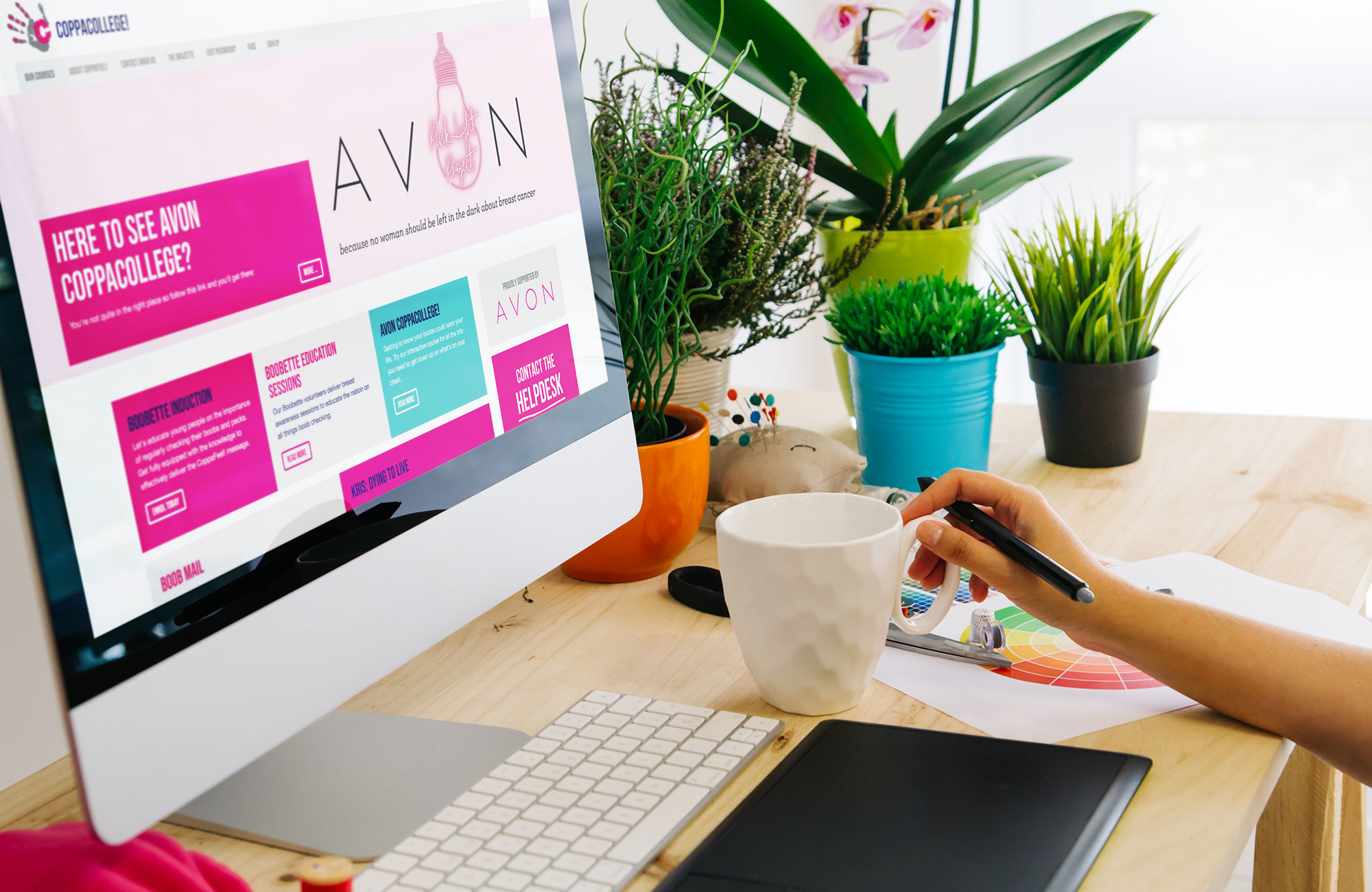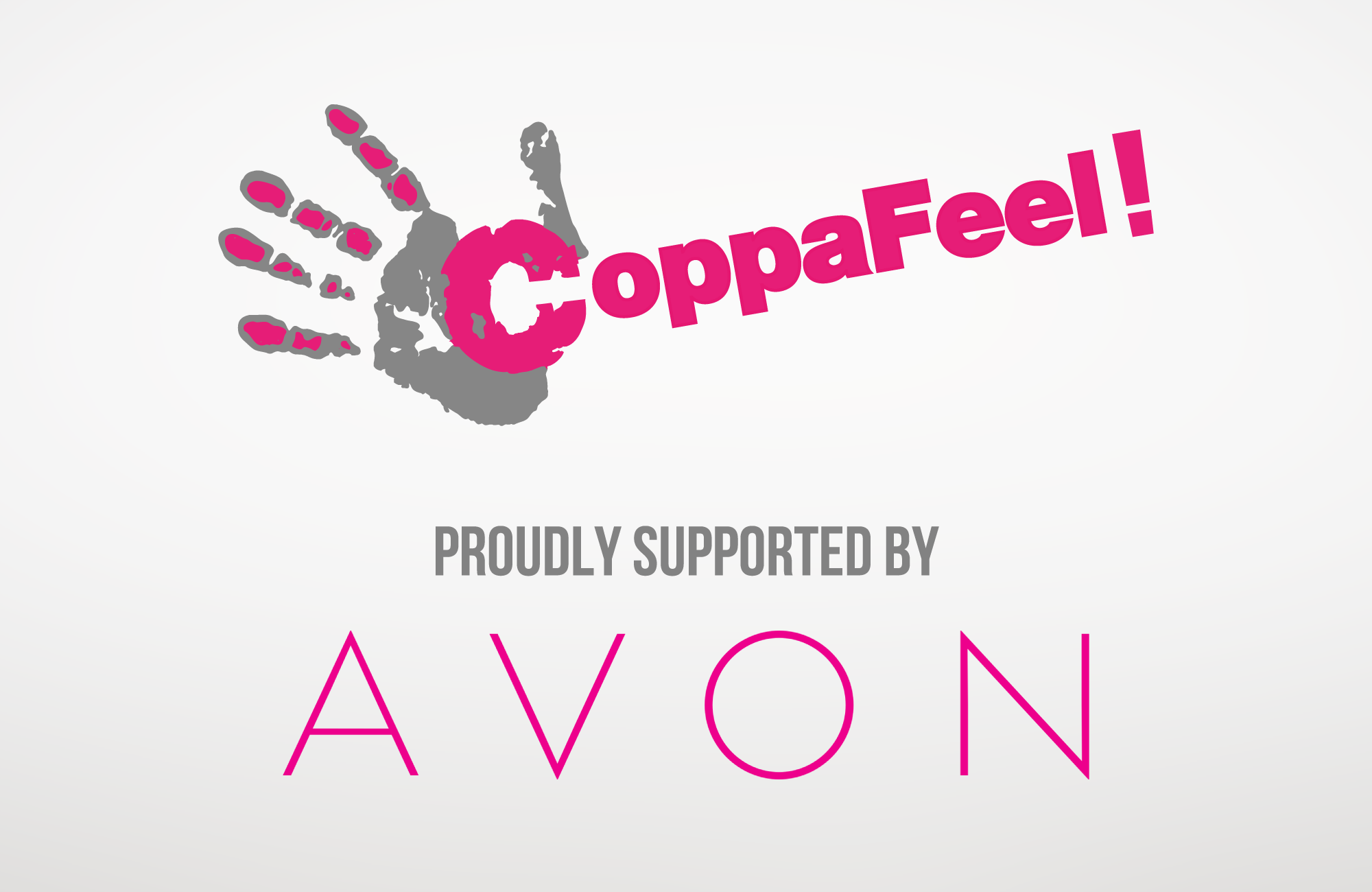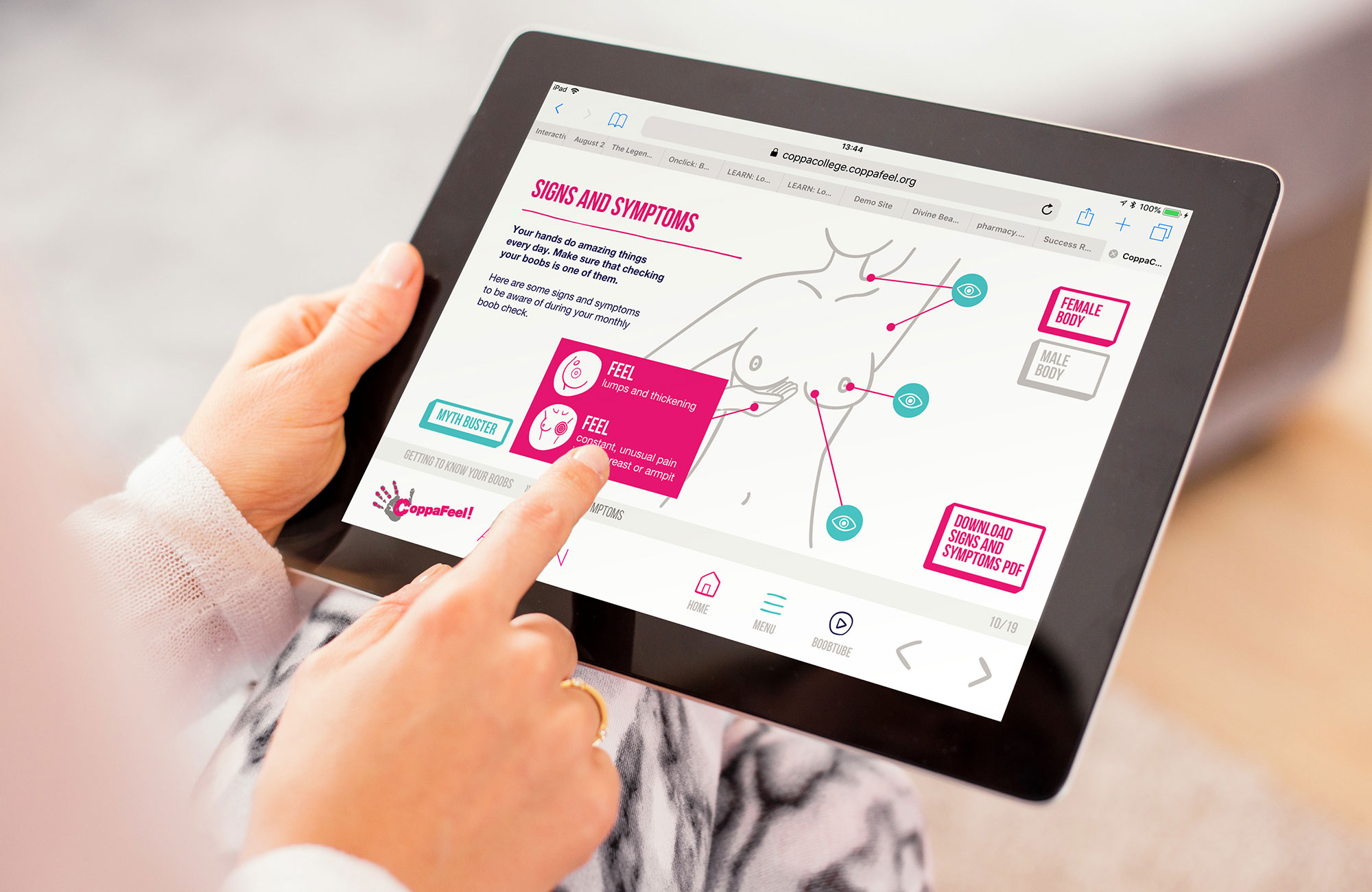 Working in close partnership with the CoppaFeel! team, Onclick designed and built a fun, interactive digital learning module, based on content from their existing materials used in classroom inductions.
Our overall aim was to equip Boobettes with the confidence and knowledge to deliver the CoppaFeel! message effectively and to the best of their ability.
We wanted to ensure the course was kept concise but truly reflected the stand-out style and overall ethos of the CoppaFeel! brand. Getting the narrative right was key to engage their target audience and match the fun, friendly and approachable tone of the organisation. We integrated large scale, vibrant photography alongside bold, custom graphics, engaging, interactive activities and embedded video content.
All materials needed to be hosted within a secure platform, where user data could be monitored to ensure Boobettes have confidently completed their induction experience. Our dedicated Moodle platform CoppaCollege! was created and designed to accurately reflect the CoppaFeel! brand and public website.
An interactive final feedback form checked the knowledge and confidence levels of users at the end of the module. Rather than opting for standard certification, we utilised the badge facility to award users with a sought after "Golden Boob" on completion of their online training.
Fancy giving our bespoke, CoppaFeel! interactive module a try? You can access the full "Getting to Know Your Boobs" digital learning for free from Avon Causes.
#CoppaFeelWithAvon
Working with this fab team and organisation, we are extremely proud of the end result.
Our first test group of Boobettes loved the online materials. They found them extremely useful in improving their understanding of the CoppaFeel! message and built their confidence in sharing their knowledge with others.
Both CoppaFeel! and Avon were thrilled with the final results, officially launched at Feya, London on 24th August 2018. Avon are in discussions with Onclick to potentially develop similar modules alongside other breast cancer charities around the world.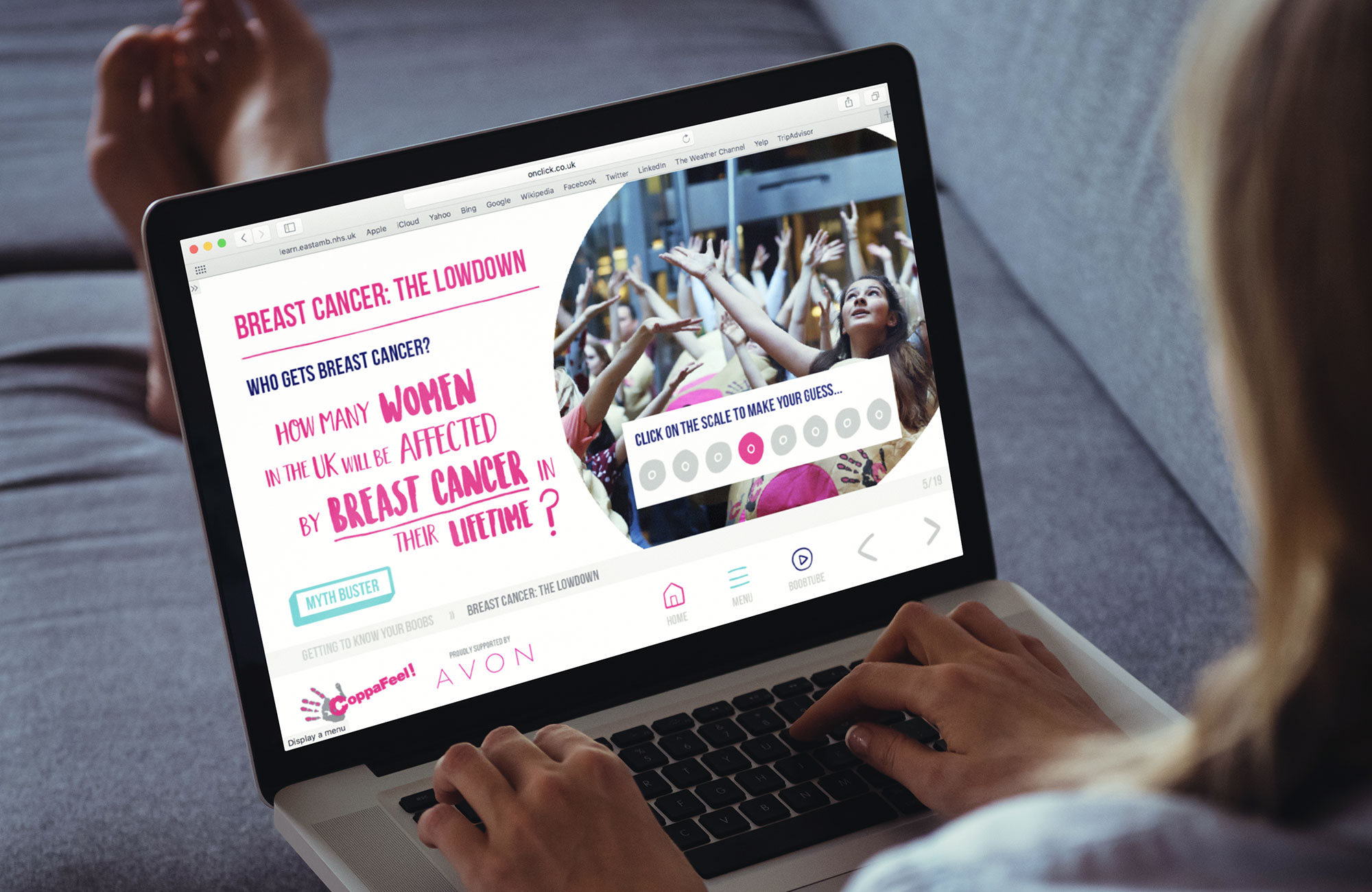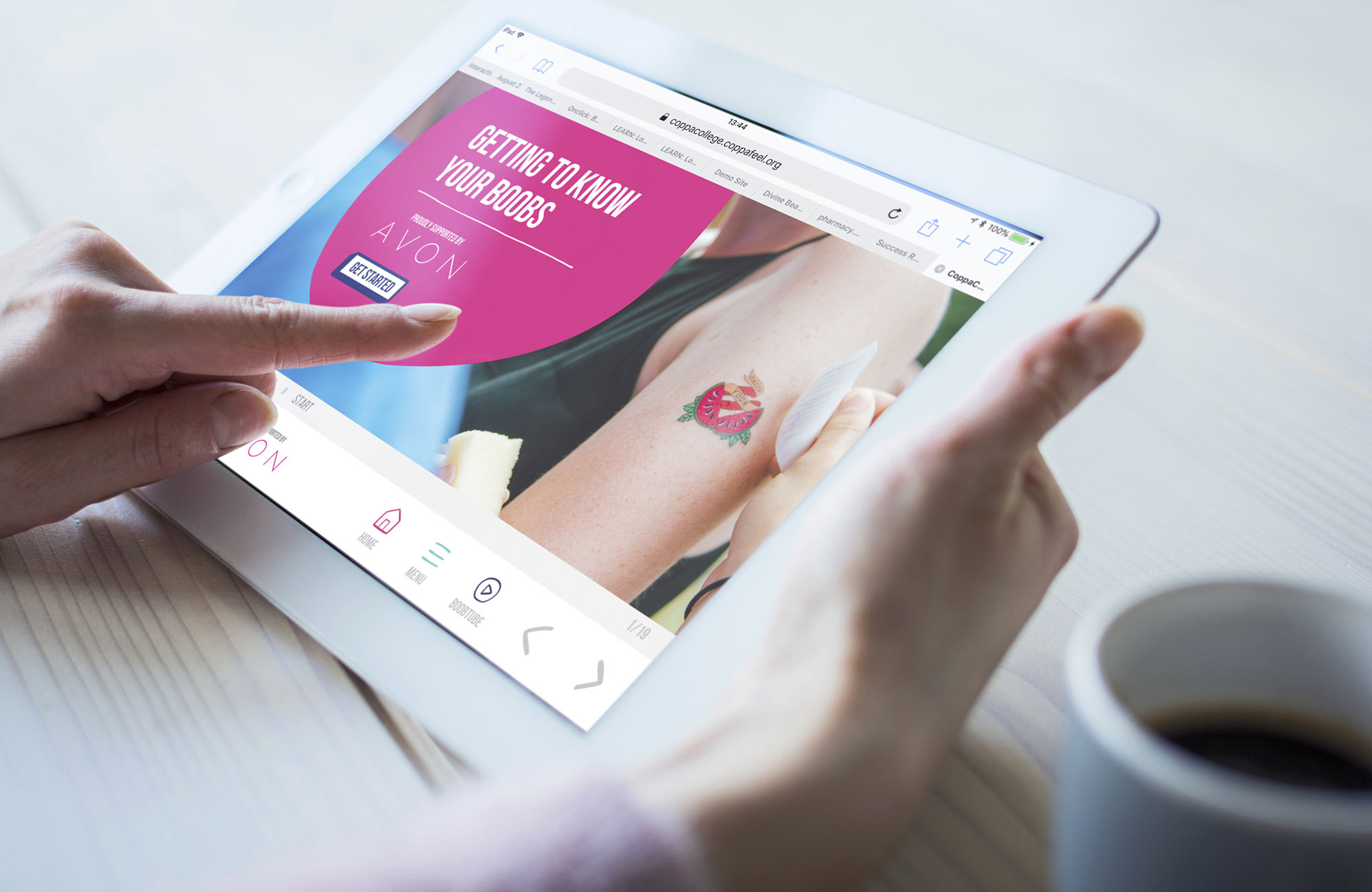 I love CoppaCollege; it is such an intuitive tool that is easy to navigate and fun to use. The 'human' language and short, sharp snippets of information make it easy to be boob savvy!
Sarah Gillespie
Division Manager, Avon UK

I think the course covers everything we need to know really well. It's going to be a great tool for new members of the CoppaFeel! family and will help refresh the knowledge of even the most seasoned coppa feelers.
Sophie
CoppaFeel! Boobette



I absolutely LOVE IT!! The myth busters were great because it's amazing how much we believe without ever really checking the facts. The Boob Check Guidance served as a healthy reminder of how you check yourself and what to look out for.
Glenice
Avon Sales Leader

To have a tool to help raise awareness for the importance of early detection is incredible. I cannot wait to share it and help spread the word for everyone to "coppafeel".